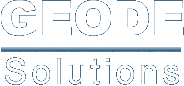 VXML Editor
Products >> Voice XML Editor >> Final Code



Final Code

You don't need to be a Voice XML expert to use this tool. You don't even need to know Voice XML at all. We do all the work for you. Just build the IVR "strategy" with our GUI interface, then chose "Make" from the Main Menu. A Voice XML script that reflects your GUI interface will be ready in seconds.

Other Features

Final Code Screen

Home - Products - Downloads - Buy - Company - Contact Us

© 2015 Geode Solutions. All rights reserved.