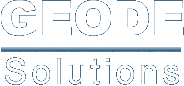 VXML Editor
Products >> Voice XML Editor >> Dialog Editor



Dialog Editor

Dialog Editor allows the user to implement different features of the IVR algorithms. Several types of dialogs are available, which differ by type of input. User Input such as dtmf from a telephone key pad can be used along with variables. Every input has an appropriate response (action) such as transfer, disconnect, web requests, etc. Each dialog or action can be preceded by playing different prompts.

Other Features

Dialog Editor Screen

Home - Products - Downloads - Buy - Company - Contact Us

© 2015 Geode Solutions. All rights reserved.